You are here:
home > sports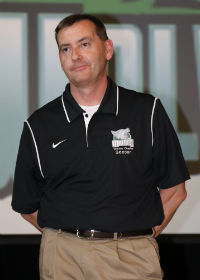 [In High School]
[June 6, 2015]
Woods Charter School girls soccer scores conference player and coach of the year
Chapel Hill, NC - The North Central Athletic Conference, which is home to nine Triangle 1A charter schools, released its All-Conference awards for girls soccer. Isabel Pearce of Wood Charter School was named the player of the year. Woods Charter soccer coach, Graham Stewart was named coach of the year. Woods Charter girls soccer team members who made the All-Conference first team included Isabel Pearce, Mckenzie Abbott, and Kat Pike. The second team consisted of Woods players Martha Farrell, Jade Ogilvie and Justina Stewart
Ironman 70.3 Sports Event returns to Chatham County on May 31
[May 27, 2015]
The IRONMAN 70.3 sports competition event returns to the Triangle on Sunday, May 31, 2015, with the two of the three events, swimming and biking, in Chatham County. This means that roadways near Jordan Lake and southeastern Chatham could be impacted from early morning until about 1 pm.
[In Other Sports]
North Carolina defeats Virginia Tech to advance to ACC Baseball Championship pool play
[May 19, 2015]
After struggling through the final two weeks of the regular season, eighth-seeded North Carolina hoped to turn things back around during the 2015 Atlantic Coast Conference Baseball Championship. The Tar Heels took a step in that direction on Tuesday, and now have at least three more tournament games to try to make it happen. UNC used a solid starting outing by Zac Gallen and strong relief work by Trevor Kelley to turn back ninth-seeded Virginia Tech, 5-3, in Tuesday's second play-in game at Durham Bulls Athletic Park.
[In Baseball]
2015 #ACCBase Championship pairings and game times set
[May 19, 2015]
Pairings and game times have been set for the 2015 Atlantic Coast Conference Baseball Championship, which gets underway Tuesday at Durham Bulls Athletic Park in Durham, North Carolina. Louisville (42-14, 25-5 ACC) earned the No. 1 overall seed and will head up Pool A. The Cardinals will be joined by fourth-seeded Florida State (37-19, 17-13) and fifth-seeded Clemson (31-25, 16-13 ACC), while No. 8 North Carolina (32-22, 13-16) and No. 9 Virginia Tech (27-26, 13-16) will play Tuesday to join the pool.
[In Baseball]
Woods Charter School to face Raleigh Charter in round 3 of NCHSAA soccer tournament
[May 18, 2015]
The Woods Charter School Lady Wolves soccer team (seeded #9) will face the Raleigh Charter (seeded #1) away in a third round tournament game on Wednesday, May 20. The game is scheduled to start at 5:30 pm. Woods comes into the game with a 17-3-1 record. Raleigh Charter is 16-0-1. The Lady Wolves defeated Trask in the first round, 8-0. They won the second round game against Princeton, 6-0, to advance to the third round.
[In High School]
Wakefield, Marvin Ridge, Carrboro, Raleigh Charter win championships in NCHSAA men's dual team tennis
[May 18, 2015]
Carrboro, in the 2-A championship match for the fourth consecutive year, won its second straight state title over Brevard, winning this time by a 5-2 count. The closest championship of the day—and by far the longest-- was a grueling 3-A final with Raleigh Cardinal Gibbons and Waxhaw Marvin Ridge splitting the singles matches 3-3 to force the final into decisive doubles play. Three of the six singles matches split sets.
[In High School]
Wake Forest Demon Deacons unveil new football uniforms
[May 7, 2015]
Wake Forest unveiled new football uniforms today (May 5). The Demon Deacons' new Nike Football uniform design balances a similar blend of modern flare with traditional craftsmanship. The new uniform design takes cues from the school's rich history, campus architecture and the Demon Deacon mascot. The black and gold uniform features a new custom number font honoring the university's founding in 1834. The numbers feature angled notches at 18 and 34 degrees, top and bottom respectively.
[In Football]
Houckdesign disc golf course underway in Pittsboro
[May 7, 2015]
Design work has started on the new Disc Golf Course at Rock Ridge Park. This will be an 18 hole tournament level course designed by one of the premier designers in the field, John Houck of Austin Texas. Not all of the funding for construction is in place, but the plan is to have the course completed within a year provided that planned fundraising efforts are successful.
[In Other Sports]
Full slate of activities to surround Kay Yow spring football game
[Apr. 11, 2015]
A full slate of activities is planned in conjunction with the 2015 Kay Yow Spring Football Game, which will kick off at 1 p.m. on Saturday, April 11 at Carter-Finley Stadium. In addition to the action on the field, there will be music, food and the return of former Wolfpack players from the past seven decades who will be in town for their annual reunion.
[In Football]
Rosters set for Wolfpack Alumni Classic
[Apr. 11, 2015]
The second annual Wolfpack Alumni Classic football game will be held on Saturday, April 11, at 10:45 a.m., prior to the Kay Yow Spring Football Game, at Carter-Finley Stadium. NC State alums from the past six decades have signed up to compete.
[In Football]
2015 March Madness schedule for the Sweet 16
[Mar. 26, 2015]
March Madness continues Thursday and Friday with the Sweet 16 playing in 8 games. The Triangle has three ACC teams playing over the next two days. UNC (seeded #4) will play Wisconson (seeded #1) in Los Angeles at 7:27 pm EDT. On Friday, No. 1 Duke will face #5 Utah in Houston around 9:30 pm EDT. No. 8 N.C. State goes up against No. 4 Louisville in Syracuse, starting at 7:27 pm EDT.
[In Basketball]
Browse more...
Chatham Rec
High School
College
Football
Basketball
Baseball
Pro
Photos
Other Sports