Wake Forest Demon Deacons unveil new football uniforms
Posted Thursday, May 7, 2015
E-mail this page

Printer-friendly page
WINSTON-SALEM, NC - Wake Forest unveiled new football uniforms on Tuesday, May 5. The Demon Deacons' new Nike Football uniform design balances a similar blend of modern flare with traditional craftsmanship.
The new uniform design takes cues from the school's rich history, campus architecture and the Demon Deacon mascot. The black and gold uniform features a new custom number font honoring the university's founding in 1834. The numbers feature angled notches at 18 and 34 degrees, top and bottom respectively.
The jersey sleeves feature a new pattern providing an unmistakable connection to Wake Forest's history. Drawn from the University Shield and the wrought-iron architectural details that punctuate the campus, the graphic forms a stylized "W." Its arching branches are suggestive of growth and collaboration -- keys to success as Coach Dave Clawson enters his second season with the Demon Deacons.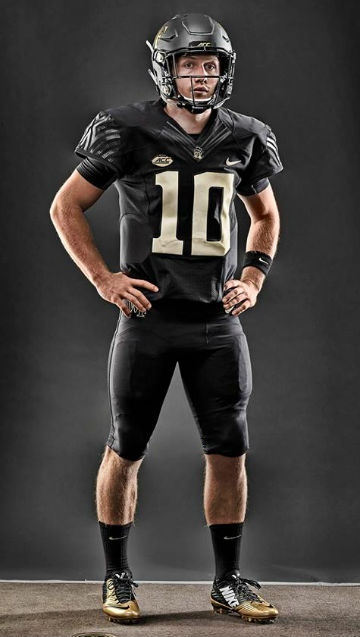 The jersey collar references the Demon Deacon mascot, adopted by the university first as a term to describe the football team's play in the 1920s, and then introduced as a physical presence at games by students two decades later. Further graphic details include the words "Deacon Tough," symbolic of the program's fighting spirit, embroidered on the back of the neckline of the jersey, and Wake's "WF" logo on the hip of the pant.
At home, the team will wear black jerseys with gold trim, paired with gold pants. Away, the Demon Deacons will dress in a crisp, all-white uniform. A third, all black look rounds out the trio of new uniforms.