Wolfpack's new football uniforms will have "STATE" emblazed across the chest of the jerseys
Posted Wednesday, July 27, 2011
E-mail this page

Printer-friendly page
Raleigh, NC - The Wolfpack football team will take the field in a new uniform style and fabric in 2011. The home jerseys, which are a bright, true NC State red, will have "STATE" emblazoned across the chest, while the classic pants will be adorned with "Block S" logo. The uniforms are made with adidas' TechFit fabric, which promises a more breatheable, comfortable fit for the players and the pants feature a sleek, beltless design.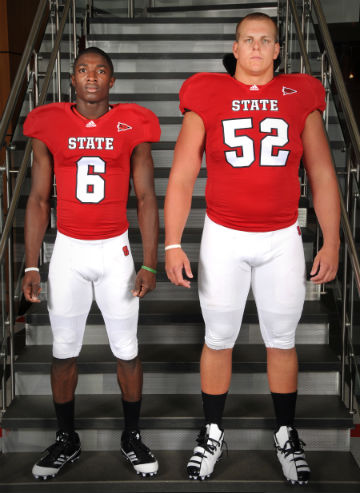 "The uniforms have a very clean, traditional look," said head coach Tom O'Brien. "Our older fans will like them because they are reminiscent of the uniforms of great teams of the past and our current players will like them because they are stylish, comfortable and actually have elements that will benefit them on the field of play."
Director of Athletics Deborah A. Yow decided early in her tenure that she wanted the Wolfpack program to be identified as "STATE" on all uniforms. "It's a basic, bold statement: State. That's who we are," she said.
NC State is one of an elite group of programs that will wear the exclusive TechFit uniforms. They are 30 percent lighter than standard pieces, making use of multiple fabrics, textures and ventilation zones without seams. The technology allows for increased mobility, agility, comfort and durability, sizing versatility and boasts expandable flatlock seaming and an integrated pad lock system. CLIMATE moisture management and anti-microbial technology help create a true compression uniform fit.
Adidas created the product with input from employees specializing in kinesiology, biomechanics, materials, design, wear testing, sports marketing and brand development.
Wolfpack fans can get their first up-close look at all variations of the new uniforms at Meet the Pack Day on Aug. 13 at Carter-Finley Stadium. A booth will be manned with equipment room staff to answer questions about the uniforms and to give fans an opportunity to feel the TechFit material.
Replica jerseys will be available in the student bookstore and on GoPack.com in August.