Robert Woodard tosses shutout to lead No. 2 UNC past Duke
Posted Friday, April 13, 2007
E-mail this page

Printer-friendly page
Chapel Hill, NC - North Carolina starter Robert Woodard tossed a complete game shutout to lead the second-ranked Tar Heels to a 7-0 victory over Duke on Friday night at Boshamer Stadium. The Blue Devils fall to 22-14 overall and 3-13 in the ACC while the Tar Heels improve to 31-5 and 12-4, respectively.
Woodard improved to 7-0 on the season after holding the Blue Devils to nine hits with four strikeouts and one walk.
North Carolina took a 3-0 lead in the bottom of the second. After rightfielder Tim Fedroff drew a one-out walk, first baseman Kyle Shelton lined a single to right center, giving the Tar Heels runners on the corners. Second baseman Garrett Gore followed with a single through the left side to score Fedroff. Leftfielder Reid Fronk then singled up the middle, scoring Shelton and moving Gore to third. Centerfielder Seth Williams capped the frame with a sacrifice fly to center to score Gore.
Williams added a two-out RBI-single in the bottom of the fourth to give Carolina a 4-0 lead.
With one out in the bottom of the fifth, third baseman Chad Flack singled to left field and Fedroff followed with a base hit to right that allowed Flack to advance to third. The Tar Heels extended their lead to 5-0 on Shelton's sacrifice fly that plated Flack.
Blue Devil catcher Matt Williams led off the bottom of the sixth by laying down a bunt to third base for a base hit. Rightfielder Jonathan Anderson then grounded into a fielder's choice before leftfielder Tim Sherlock laced a base knock to right field. The threat ended when second baseman Gabriel Saade and shortstop Ryan McCurdy both hit into fielder's choices.
North Carolina pushed its sixth run across in the bottom of the sixth when Flack belted a solo home run over the left field wall.
Williams added a sacrifice fly in the bottom of the eighth, giving the Heels a 7-0 advantage.
Williams, Sherlock and McCurdy all went 2-for-4 on the night to lead Duke at the plate. Anderson, Saade and first baseman Nate Freiman added one hit each for the Blue Devils.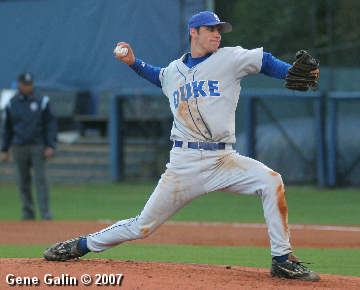 Hassan (2-3) worked five frames on the night, allowing five runs - four of those earned - on eight hits while walking four and fanning one.
Duke and North Carolina will play a doubleheader tomorrow with game one slated for 11 a.m. and game two set for 2 p.m. The Blue Devils will open a five-game homestand next week when they take on UNC Greensboro on Tuesday at 7 p.m. at Jack Coombs Field. Duke will then host Maryland next weekend before facing Campbell on April 24.