Save the date for the 2015 Fearrington Folk Art Show
Posted Tuesday, January 20, 2015
E-mail this page

Printer-friendly page
Pittsboro, NC - Save the date for the 2015 Fearrington Folk Art Show on Saturday, February 21, 2015 and Sunday, February 22, 2015 from 10am to 5pm! Each year more than 35 folk artists from throughout the South convene at the big Barn at Fearrington Village. They turn every square foot of the structure into exhibition space for marvelous outsider art.
You will not want to miss the special Collector's Preview on Friday, February 20, 2015 offering the collector the opportunity to visit and have more in-depth conversations with the artists and purchase their work. Purchase your tickets online here or at McIntyre's Books.
This annual event is an exhibition and sale of widely diverse artwork from self-taught Southern artists who are deeply influenced by the spirit of folk art, naïve art, primitivism and outsider art. Featured artwork includes whimsical paintings, fantastical robots, sculptures, pottery and more. Fearrington has garnered a reputation for bringing together a diverse group of artists who represent some of the best, most unique work to be found in the outsider art world. We hope you'll experience it for yourself! All sales proceeds benefit the artists directly; Fearrington takes no commission from the artists, nor does Fearrington charge a booth fee to the artists selected for the show. Ticket prices are just $5 per person at the door.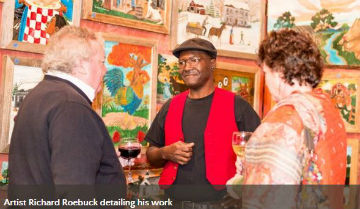 This Year's Artists at the 2015 Folk Art Show
The Fearrington Folk Art Show offers visitors a rare opportunity to purchase art directly from dozens of the Southeast's finest folk artists.
Stephanie Astalos Jones
Chris Beck
Mr. B
Athlone Clark
Josh Coté
Maurice Cook
Fleetwood Covington*
Theresa Disney*
Danny Doughty
Brian Dowdall
Mike Esslinger
Jeanne Flint
Riley Foster
Theresa Gloster
Jackie Haliburton
Cap Man
Chris "Chub" Hubbard
Virgil Johnson
Clyde Jones
Mike Jones
Crystal King
Tim & Lisa Kluttz
Amy Lansburg
Eric Legge
Peter Loose
Jackie MacLeod
Jennifer May
Mark May
Chris Milk
Missionary Mary Proctor
Mama Girl
Sarah Rakes
Richard Roebuck
Cher Shaffer
Gabriel Shaffer
John Sperry
Trés Taylor
Miz Thang
Ab The Flag Man
Brian Mergenthaler
Dover Pottery
*Denotes new artist joining the show