Scotland takes third game 10-5 to win 4-A baseball championship
Posted Monday, June 5, 2006
E-mail this page

Printer-friendly page
Raleigh, NC - ­­ Nick Liles had three hits and Scott Myers drove home four runs as Scotland downed South Caldwell 10-5 in the third and final game of the North Carolina High School Athletic Association state 4-A baseball championship series at N.C. State University's Doak Field on Sunday afternoon.
Senior lefthander Derrick Lowery of Scotland was named the Most Valuable Player of the championship series. Lowery pitched nine innings in the two days, including a route-going performance on Saturday night in a 1-0 win, and struck out 12.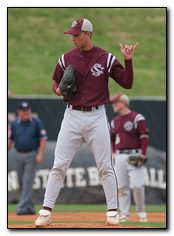 The Scots built a 10-0 lead in the first four innings and cruised to the victory while starting pitcher Parker Bangs, who is headed to South Carolina on a baseball scholarship, kept the Spartan bats at bay. He left in the fifth after yielding five hits and one run, fanning six and walking two. Madison Bumgarner was tagged with the loss.
Scotland struck for a pair of runs in the opening inning when Bangs singled, Liles singled and then Scott Myers doubled down the line to plate one run and another scored on an error.
In the third inning, Myers had another key two-run single and Matt Adams drove home a run as the Scots pushed the lead to 6-0.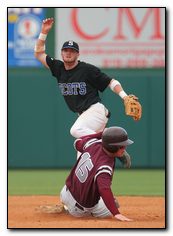 Then Brad Bridgeman's bases-loaded triple was the key blow in the Scots' four-run fourth inning. Singles by Liles and Lowery, a passed ball, a walk, an error and a sacrifice fly also figured in the scoring.
Bradley Chavis led the way for the Spartans with two hits in three trips, including a three-run homer in the seventh inning. Brad Hardee also had two hits for South.
Scotland, in its first trip to the NCHSAA baseball finals since 1994, finished 29-4 overall while South Caldwell was 30-6. The Scots had dropped the opening game of the series and came back to win two straight. Nine players on the Scotland team have either signed or have been offered college baseball scholarships.
It is the first state baseball championship for Scotland since 1977.
In the first game on Saturday, Bumgarner blasted two long homers and pitched a shutout as South Caldwell dominated Scotland 12-0. Josh Sheehan also had a grand slam for South Caldwell.
Then Scotland evened the series Saturday night as Lowery fired his two-hit shutout and scored the only run of the contest in the Scot victory.
NORTH CAROLINA HIGH SCHOOL ATHLETIC ASSOCIATION GAME THREE, STATE 4-A BASEBALL CHAMPIONSHIP SERIES
Doak Field, North Carolina State University
South Caldwell 0 0 0 0 1 1 3 ­ 5 11 4
Scotland 2 0 4 4 0 0 x‹-10 11 1
Madison Bumgarner, Justin Poovey (5), Jimmy Messer (6). Parker Bangs, Chris Patterson (5), Derrick Lowery (6).
WP - Bangs. LP - Bumgarner. HR - Bradley Chavis, South Caldwell, 7th inning with two on.