Northwood girls soccer team ties Raleigh Charter in double overtime
By Jack Middleton
Posted Thursday, March 12, 2009
E-mail this page

Printer-friendly page
Pittsboro, NC - The Northwood varsity girls soccer team had another tough and hard fought match Wednesday night vs Raleigh Charter. The score at the end of two overtimes was 0-0.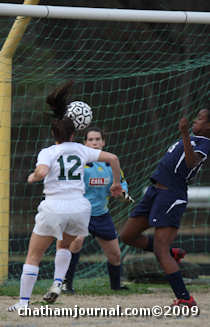 Once again defense was the name of the game for the chargers. Both teams had potential shots for goals throughout. NHS took 17 shots on goal with several almost finding the net. A shot from Annie Cleaver with 2:00 remaining in the 2nd OT was rejected by a great save from the Raleigh Charter keeper. Sara McCaw had another super match in the net with twelve saves and the defensive four of Suprick, Walker, Luft and Stroud continued their fine play. Casey Norris and Emily Brooks again controlled the midfield. The team received some good minutes from Lupe Becquer Ramos and Danielle Helgens off the bench as well.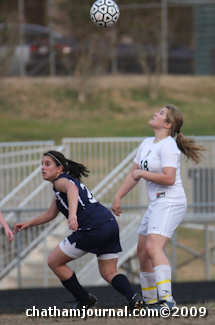 Raleigh Charter now stands at 2-0-1 and the Chargers are 0-0-2 in Mid State play. With a tough opponent and tired legs from Monday's overtime match, the Northwood girls held their own. The team hopes that it will begin to find the back of the net soon.
The next game, weather permitting, is Friday at home vs Carrboro at 6 p.m.