Northwood softball team's season came to an end with a 4-0 loss to West Stokes
By Dr. Jason "Brent" Cooper
Posted Friday, May 29, 2009
E-mail this page

Printer-friendly page
Pittsboro, NC - The Northwood High School varsity softball team's season came to an end last night with a 4-0 loss to highly ranked West Stokes here at NHS. Carrie Webster pitched a complete game and allowed no runs after the first inning. However, the Lady Chargers' bats were not able to overcome a 4-0 deficit after one inning of play.
Webster struck out 8 Lady Wildcats and allowed only four hits after the first inning. However, the Lady Chargers were only able to muster four hits on the night.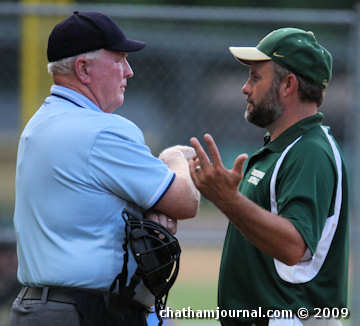 Carrie Webster and Lauren Oldham each had two hits on the night. Webster doubled with two outs in the first but was stranded there without scoring. Webster also singled and walked later in the night. Oldham legged out an infield single and singled sharply up the middle to start what seemed to be a Lady Charger rally in the sixth. But, after being sacrificed to second by Christa Surles and a walk to Carrie Webster, both runners were stranded resulting in the final 4-0 score.
Keeley Skinner, Christa Surles, and Carrie Webster all had nice games defensively for the Lady Chargers. The Lady Chargers end their very successful season as Mid State 2A Conference Champs, Mid State 2A Conference Tournament Champs, and for the third consecutive year won multiple playoff games in the state playoffs.
The Lady Chargers have dedicated their success this season to Mrs. Resa Webster, mother of Varsity Softball player Carrie Webster, as a sign of their support for her in her battle with cancer. The team wore pink laces in support of Mrs. Webster and in support of breast cancer research this season. The Lady Chargers wanted to give back the support to Mrs. Webster that she has given to the Lady Charger softball family over the years.