Northwood girls basketball falls to county rival Jordan Matthews 55-37
By Brent J Cooper
Posted Tuesday, January 12, 2010
E-mail this page

Printer-friendly page
Pittsboro, NC - The Varsity Girls Basketball team took a 21-14 lead to the half, but, could not hold that lead in the second half as it lost to county rival Jordan Matthews 55-37 Saturday evening January 9 at Northwood High School. The Lady Chargers trailed only 28-25 heading to the fourth quarter, but the Lady Jets outscored the Lady Chargers 27 to 12 in the fourth quarter en route to the victory.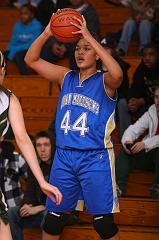 The Lady Chargers were led by Olivia Oakley who scored six points, collected a team high 16 rebounds, blocked a team high six shots, and dished out a team high two assists. Yancey Luft led the Lady Chargers in scoring with seven points while Sam Perry came off the bench to provide a spark for the Lady Chargers scoring six points, as she was 4 of 4 from the foul line, collected eight rebounds, and grabbed a team high three steals.
Senior point guard Casey Norris added five points, while Annie Cleaver tied for the team high with 2 assists.
Despite the final score, the Lady Chargers played much better overall for the first three quarters against a tough Lady Jets squad.
The Lady Chargers resume Carolina 9 Conference play on the road at Granville Central Friday night.