Wake Forest unveils plan to enhance Groves Stadium
Posted Thursday, August 3, 2006
E-mail this page

Printer-friendly page
Deacon Tower signals third phase of improvements
Winston-Salem, N.C. — Wake Forest athletic department officials announced a plan to enhance Groves Stadium on Wednesday. The third phase of Wake Forest University Football Project is scheduled to hit full stride following the 2006 season with the demolition of the existing press box and construction of the new Deacon Tower. The estimated completion date of phase three is June 2008.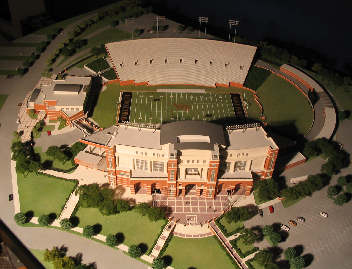 Deacon Tower will include club seats, premium club tables and box suites, a new press box to include print and electronic media accommodations, and ground level restrooms and concessions. The third phase also includes an expanded club/suite/media parking lot, a donor plaza and a signature entry point.
The third phase of the project will begin pending sufficient demand for premium seats, as well as successful generation of revenue through fundraising and sponsorship.
The Wake Forest University Football Project is being conducted in several phases. The first phase, the addition of brick work on the grandstand facades, was completed in August 2005. The second phase, completed in July 2006, was the installation of a state-of-the-art FieldTurf surface, plus structural, electrical and plumbing repairs.
Deacon Tower, expanded parking and the signature entry point is the third phase. The fourth phase includes concourse improvements, such as concession stands and restrooms on the east and west concourses and Deacon Hill area. The fifth phase includes a new home locker room and new field level seating and endzone suites. The sixth phase calls for a renovated tailgating lot with a new Deacon Tailgate Zone and an expanded plaza at Bridger Field House.
Funding for the project will be generated through box suite and club seat revenue, sponsorship opportunities and increased ticket sales, concession revenue, novelty sales, non-gameday rental and fundraising.
Statement from Ron Wellman, Wake Forest athletics director:
"Groves Stadium is an excellent facility for our football program, but it has not been updated since it was originally built in 1968. Fans today have certain expectations about the amenities available when they attend a college football game. We are not able to provide those amenities currently. The Football Project will improve the stadium so that those amenities will be available to our fans. It will also provide the luxury seating that will be an important aspect to fund all of the improvements of the Football Project. Groves Stadium can be the Wrigley Field of college football. We are anxious to complete this project over the next few years."
Statement from Jim Grobe, Wake Forest football coach:
"Over the past few years, we've done a really good job improving our on-campus football facilities. We feel like the last piece of the puzzle is going to be our stadium renovations. One of the biggest concerns for recruits is the stadium. We'd like to take the stadium from being a problem to being an asset, not only for recruiting, but for our fans and for our current football team."
FACT SHEET
Deacon Tower Press Box; Groves Stadium
Wake Forest University; Winston-Salem, NC
Architect: Walter Robbs Callahan & Pierce, Architects, Winston-Salem, NC 336-725-1371
Replaces: Existing 7,100 SF Press Box constructed in 1966
Construction Start: Post 2006 football season
Temporary pressbox: 2007 football season
Opening: 2008 football season
Functions:
1st level Public restrooms, concessions, ticket booths and entrance gates
2nd level Mechanical equipment
3rd level Flexible space for special functions or offices
4th level Club level seating w/ 3 formats (club seats, premium club tables and box suites)
5th level Box suites
6th level Press functions, Presidents Box, Radio, TV and Operational Staff
7th level Coaches, TV, Radio and Operational Staff
Seating capacities:
Club seats 602 outdoor stadium chairs
Premium Club Table seats 48
Box Suites w/ balconies 4
Box Suites 18
Special features:
Premium seating in multiple formats (indoor and outdoor seating)
Operable windows
Upholstered stadium chairs with increased legroom
Four elevators
Enclosed lounge with enhanced concessions
Pre-wired for all media functions
Multiple TV and radio broadcast booths
Provisions for national & regional broadcast tucks and satellite uplinks
Audio and televisions throughout the facility
Full service kitchen for concessions and catering
Additional toilets and concessions serving the west side of the existing seating bowl
New First Aid facilities to serve the entire stadium
Enclosed baby changing facility
Expanded VIP parking adjacent to the new facility
Roof top observation platforms
Deacon Tower By The Numbers:
7 — stories high
125 — feet wide
122,900 — total square feet
12 — premium club tables
22 — luxury box suites
602 — outdoor stadium club seats
1,018 — total premium seats