You are here:
home > news > local/county
Volunteers removed eight tons of trash and 350 tires during Jordan Lake cleanup effort
Posted Wednesday, October 12, 2011
E-mail this page

Printer-friendly page
Pittsboro, NC - During the Big Sweep events at Jordan Lake last week, volunteers removed more than eight tons of trash and approximately 350 tires, according to Fran DiGiano, co-founder of Clean Jordan Lake (CJL), a nonprofit that organized the three cleanup events as part of North Carolina's Big Sweep.
Long-time volunteer Holly Brackett is at the helm of a boat that helped the nonprofit Clean Jordan Lake remove trash from the lake's shorelines. A grant from the Boat US Foundation is helping Clean Jordan Lake recruit other boaters to haul trash collected.
"This was volunteerism at its best, showing that many people from different walks of life care about Jordan Lake," DiGiano said. His organization spearheaded this assault on trash on the shoreline of Jordan Lake. The three-day cleanup involved 50 volunteers from GlaxoSmithKline, 60 from Biogen Idec and 150 from the general public.
On Sept. 28, GlaxoSmithKline (GSK) volunteers removed 300 bags of trash and 150 tires from a small peninsula jutting into the Haw River Arm where DiGiano says stormwater runoff has carried trash to the lake since it was filled in the early 1980s. Crosswinds Marina and the Army Corps of Engineers provided pontoon boats to ferry the GSK volunteers to the site.
The second cleanup day on Sept. 30 involved 60 Biogen Idec employees, who spent their service day collecting 150 bags of trash at seven fishing access points from one end of the lake to the other. "Recreational users of the lake are responsible for this source of trash," said DiGiano.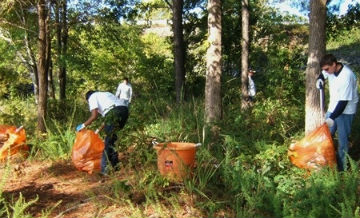 The Oct. 1 cleanup targeted the general public, with 130 volunteers on foot and 20 boating volunteers collecting trash at Poe's Ridge Boat Ramp at the southern end of lake. Boaters ferried walkers to Wilderness Island where they gathered another 300 bags of trash and at least 200 tires.
The bags and tires were piled into boats for return to the boat ramp. "A long row of stacked tires lined the ramp and bright orange bags overflowed large dumpsters provided by Chatham County's Solid Waste & Recycling Division," DiGiano said.
Volunteers involved with Clean Jordan Lake removed approximately 350 tires from the shorelines of the lake, which supplies drinking water for several communities and serves as a major recreational lake. The effort required the hard work of rolling tires up boat ramps, where they were stacked for proper disposal.
Jordan Lake Environment Education Center supported the CJL effort this year, attracting 10 volunteers from Northwood High School in Pittsboro. "These students earned service credits for their environmental science class and they learned firsthand about the ugliness of trash" says Eleanor Herr from the Center.
The trash collected is incredibly varied. "Recreational users leave behind plastic bait boxes, propane tanks for camp stoves, beer bottles, cans, insect repellent spray cans, plastic bags and even diapers," says DiGiano. Stormwater driven trash includes basketballs, soccer balls, baseballs, softballs, dolls, large plastic pails once containing adhesives and even a few refrigerators and hot water heaters.
DiGiano said, "All volunteers and boaters using the ramps all expressed disgust at the huge number of bags and tires brought back from cleanup sites."
Herr added, "We need to move beyond repeatedly cleaning up the mess to tackle the source of the problem and educate the next generation about respecting the natural habitat the lake provides."
In just two years of operation, CJL has hosted 13 cleanups, both large and small. Nearly 1,000 volunteers have participated, resulting in the removal of 30 tons of trash (3,000 bags) and 1,700 tires. "These would otherwise impact the beauty and cleanliness of the lake," DiGiano said.
At the end of the Oct. 1 public cleanup, Amante Pizza of Cary and Subway in Pittsboro donated lunch for volunteers. Brown and Caldwell, environmental engineering consultants, provided snacks.
CJL received a Boat US Foundation grant that will help attract more boaters to the cause and further raise public awareness.