You are here:
home > news > local/county
New Hope Valley Railway plans spooky Halloween train rides
Posted Tuesday, September 20, 2005
E-mail this page

Printer-friendly page
Bonsal, NC - The gentle woodlands of Chatham and Wake Counties turn into some very spooky places the evening of Saturday, October 29th, when the New Hope Valley Railway runs its special Halloween Trains! Join us that evening for some good fun, and feel free to come in costume. Many things are afoot in our woods from the Ghost Locomotive to the Headless Brakeman to the Vampire's Grave to the Witch's Path where the three evil sisters boil up their potions as the trains pass. Enjoy all of the fun and festivities celebrating Halloween with the sometimes haunted train crew.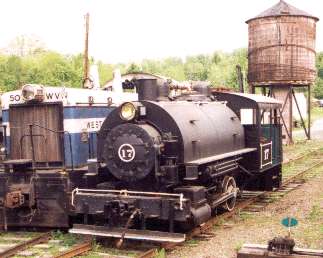 Trains will operate that evening at 4:00PM, 5:15PM, 6:30PM, and 7:45PM with each ride taking about an hour. The fare is $7.00 for all passengers of all ages, and tickets are available only by advance purchase at three convenient locations; Tom's Trains in Cary, Nick's Trains in Raleigh, or Paperback's Plus in Siler City. Tickets will also be available to the public at the ticket office in Bonsal, NC (just south of Apex, NC) on the regular monthly NHV operating day on Sunday, 2 October 2005.
History
The East Carolina Chapter of the National Railway Historical Society was organized in 1964 in Greenville, N.C. Later the Chapter moved to Farmville, N.C. and operated over the old East Carolina Railway trackage. In 1981, the Chapter purchased 6.5 miles of track in western Wake County from Southern Railway Company, and commenced operations in Bonsal, N.C.
Directions from Pittsboro, N.C.
Take US 64 East from Pittsboro to where it crosses Jordan Lake. Take the first right after the lake, which is SR1008, also known as Beaver Creek Road. Continue south on Beaver Creek Road and it leads right to the museum .
The museum is located off Old US Hwy 1, two miles south of the community of New Hill, NC on Daisy Street.
On scheduled public train ride days please park in the lot located on Bonsal Road. Bonsal Road intersects Old US Hwy 1 almost across from Daisy Street. Directional signs will be posted the day of public train rides.
FMI: Visit the website or call the Yard Office in Bonsal at 919-362-5416