You are here:
home > news > local/county
Chatham YMCA will open its doors on Monday
By Allen Baddour
Posted Monday, July 25, 2005
E-mail this page

Printer-friendly page
Chatham YMCA opening Monday, August 1st!
Open house begins July 25th!
Pittsboro, NC - The Chatham YMCA fitness "express" facility is scheduled to open in the former Premiere Motorsports complex on Monday, August 1st. The new Chatham YMCA is located at 964 East Street (next to the Pitt Stop Cafe). The Y includes weight and cardio equipment, locker rooms, and a supervised "kidzone" for kids (up to age 5) while their parents work out. Current limited hours for kidzone may expand as need demands.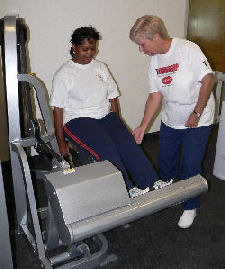 Pre-registration begins on Monday, July 25th. Memberships are available for individuals, couples, teens, and families. Memberships are also available that include access to the Chapel Hill-Carrboro YMCA. See the website for details about membership fees and
other information.
The first fifty new members will receive free Chatham YMCA t-shirts; all joining fees are waived until August 7th.
This is the first step in a YMCA presence in Chatham County. The Chatham County YMCA hopes members will let the staff know what kind of community programming they and their family are interested in. The YMCA hopes to begin programming in the fall, and will look at programs like aerobics, yoga, pilates, etc. for adults, kids sports, parent-child activites, and much more.
Everyone is welcome to stop by the facility to take a look around!
FMI: Call 545-YMCA (9622).
About the YMCA
The YMCA was founded in London, England, in 1844 by George Williams and a dozen or so friends who lived and worked as clerks in a drapery — a forerunner of dry-goods and department stores. Their goal was to save fellow live-in clerks from the wicked life on the London streets. The first members were evangelical Protestants who prayed and studied the Bible as an alternative to vice. The Y has always been nonsectarian and today accepts those of all faiths at all levels of the organization, despite its unchanging name, the Young Men's Christian Association.
The first U.S. YMCA started in Boston in 1851, the work of Thomas Sullivan, a retired sea captain who was a lay missionary. Ys spread fast and soon were serving boys and older men as well as young men. Although 5,145 women worked in YMCA military canteens in World War I, it wasn't until after World War II that women and girls were admitted to full membership and participation in U.S. YMCAs. Today, half of all YMCA constituents and staff members are women. Also, half of the Y's constituents are 18 or under.