Principal Harrell Rentz led Woods Charter School in quest for excellence
By DeeDee Nachman
Posted Friday, November 16, 2012
E-mail this page

Printer-friendly page
Chapel Hill, NC - Last night Mr. Rentz informed the Board of his intentions to retire from his position as Head of School effective June 30, 2013. The end of the 2012-2013 will mark five years that Mr. Rentz has served as the principal at Woods and his contributions have been substantial. When Mr . Rentz accepted this position in July 2008, we were in the fmal stages of moving from Cole Park to Woodland Grove Lane and in the inaugural year of offering a kindergarten class. Since that time, we have enrolled a little over 500 students in grades K-12 every year with an expanding wait list which currently stands at over 1200 students.
In the last five years, we have been featured in "Best of' listings ranging from Chapel Hill Magazine to the Washington Post, US News & World Report, and Newsweek. With the combined leadership of Mr. Rentz and the excellent team of educators working at Woods, we have consistently achieved NC Honor School of Excellence ratings since the 2008-2009 year, and our students are matriculating at an expanding list of schools both inside and outside of North Carolina. We have accomplished these milestones with smiles, good cheer, and a fme sense of humor.
Despite the new facilities, new faces and expanded offerings at Woods, we have upheld and refmed many of our old traditions - our unique graduation ceremony, Book Fair, Cafe Night, Art in the Woods - and we have established new ones- Grade 8 closing ceremony, WoodsRock, Summer Wonders, and Homecoming. Our athletics program has expanded, our arts and community service are thriving and our middle and high school enrichment offerings have united students across the grades based on mutual interests. In spite of the recession, our bottom line is strong with significant cash reserves and our faculty salaries have been placed on a scale that represents a competitive salary relative to the state scale as well as internal pay equity.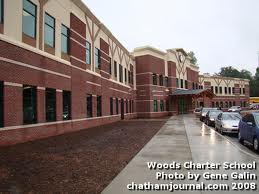 Mr. Rentz was instrumental in encouraging the work we did last year articulating our vision, mission, and core values, positioning us to take the next step toward a strategic plan or accreditation process in the near future. Our before and after-school programs, as well as summer programs, are constantly expanding representing an important growth area for Woods Charter School. Mr. Rentz has also provided invaluable expertise to the Board in the area of institutional development, policy drafting and creation of procedure all of which are critical as we enter the next chapter in the Woods story.
Mr. Rentz has helped make Woods an attractive school, not just for parents, students, faculty and staff, but for candidates for the Head of School position. As the Board takes up the important work of searching for new leadership, Mr. Rentz will continue his work in employee evaluations, curricular review and the policy work necessary to strengthen us institutionally. Mr. Rentz has assured the Board of his commitment to do everything he can to make 2012-2013 our "best year ever" and lay the foundation for a strong 2013-2014 academic year under a new Head of Woods Charter School.
There will be opportunities to formally celebrate Mr. Rentz's retirement in the spring but in the meantime, please join me and the Board in thanking him for his contributions to Woods and the impact he has had on Woods's faculty and families. Your Board will be working diligently to defme a search process and solicit strong candidates for the position of Head of School and updates on our process will be provided through emails as well as the monthly board meetings.
DeeDee Nachman is chairman of the Woods Charter School Board.