New principals are named for North Chatham and Northwood
Posted Tuesday, July 29, 2008
E-mail this page

Printer-friendly page
Pittsboro, NC - During its July 28th meeting, the Chatham County Board of Education approved the new principals of two schools, North Chatham School and Northwood High School.
Charles Aiken, who currently is the principal at Moncure School, will move to North Chatham. He will remain at Moncure until his replacement is named.
Aiken came to Chatham County Schools in December of 2006 after having been an elementary and middle school assistant principal in Wake County.
"Charles possesses the leadership skills to help North Chatham continue on its path of excellence. The school system has been impressed and appreciative of how he has helped Moncure grow and succeed. I want to reassure everyone that, like other schools where we have made administrative changes, we will carefully search and select the best candidate to lead Moncure," said Robert Logan, Superintendent.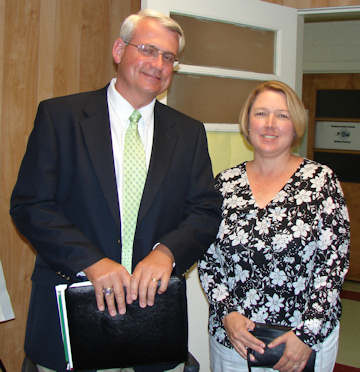 Chris Blice will be the new principal of Northwood High School. He has been the principal of Louisburg High School since 2003. Blice holds undergraduate and graduate degrees in music. In addition, he earned a Master of School Administration from East Carolina University. Blice spent seventeen years as an instrumental music educator before moving into school administration in 1999.
Carrie Little will remain at Northwood until Blice is released from his current position in Franklin County Schools, likely in September, to come to Northwood. A district can hold an administrator up to sixty days before releasing him/her from a contract.
"We feel very fortunate to have attracted a school leader with the success and talent of Chris Blice. He has taught and been an administrator at the secondary level. The fact that he has a background in the arts, specifically as a band director, was an additional plus for him as a candidate as Northwood is well-known for its arts programs. We are excited to have him join our administrative staff and look forward to the work he will do with the Northwood community," commented Logan.