Bennett and Bonlee young authors celebrate writing with local author
Posted Monday, May 9, 2011
E-mail this page

Printer-friendly page
Bennett, NC - Local author Libby Bagby visited Bennett Elementary School in April. Students from Bennett and Bonlee who wrote entries for the district's annual Young Authors competition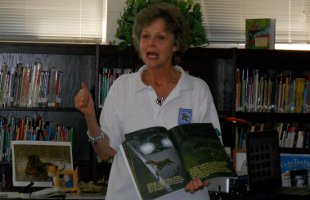 Bagby, a former media specialist at North Surry High School, described the story behind her first book, "Lucky's Plott" to the students. After reading the story, Bagby told the students of the background of her book and the trials and tribulations behind writing the story.
Based on a true event, "Lucky's Plott" is about an injured dog that Bagby found on the side of the road, and how she and her family nursed the dog with two broken legs back to health. Bagby brought along her husband, Rick, to help tell the story, and brought the star of the book, Lucky.
In addition to writing the story, Bagby began researching Lucky's breed, the Plott hound, which is the state dog of North Carolina. Bagby was so dedicated to her research The Washington Post contacted her to write an article about state dogs.
Bagby passed along encouraging words to the students, recommending having a skilled reader critique work and told the students that "reading is a very important part of writing." The students thoroughly enjoyed Bagby's advice and particularly enjoyed meeting Lucky, the very fortunate Plott hound.