Krispy Kreme opens new store in Chapel Hill
Posted Saturday, August 28, 2010
E-mail this page

Printer-friendly page
New store brings hot doughnuts, coffee and Kool Kreme to the heart of Tar Heel country
Chapel Hill, NC - Krispy Kreme Doughnut Corporation brought its legendary doughnuts and coffee to Chapel Hill with the opening of its newest Neighborhood Shop. More than 150 people waited outside 157 E. Franklin St. in the dark until the the shop opened and the "Hot Now" light went on at 6 a.m. Wednesday, August 25.
UNC-Chapel Hill sophomore Matthew Trexler camped out for 19 hours - starting at 11 a.m. Tuesday - to claim his one dozen Krispy Kremes every week for a year, as the store's first customer. The next 99 customers were given one free dozen Original Glazed doughnuts every month for one year. Commemorative Carolina Blue Krispy Kreme T-shirts were awarded to the first 100 people in line. Krispy Kreme offered product sampling throughout opening day.
Krispy Kreme "Turns it Blue" by offering its guests sleek Carolina Blue couches and complimentary Wi-Fi service, making it a sweet meeting spot. The Neighborhood Shop, dedicated to commemorating the spirit of UNC-Chapel Hill, includes Krispy Kreme's classic offerings, such as its hot Original Glazed doughnuts and other one-of-a-kind doughnut varieties, as well as its signature coffees, espresso drinks, Krispy Kreme Chillers and iced beverages. The Tar Heel shop also features Krispy Kreme's Kool Kreme soft serve menu of traditional cones, shakes and specialty doughnut sundaes, paired with a toppings bar.
Krispy Kreme will continue its Chapel Hill grand opening celebration with a four-day seek and find competition hosted on the Chapel Hill Facebook Fan Page beginning Wednesday, September 8. The 12 finalists will win one free dozen Original Glazed doughnuts for a year. The company will also host a Krispy Kreme Social on Sunday, September 12 from 2 p.m. to 5 p.m. For more information on both events, please visit the Krispy Kreme Chapel Hill Facebook Fan Page .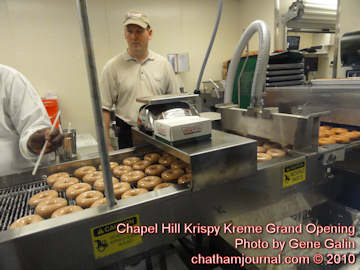 The Chapel Hill Neighborhood Shop, located at 157 East Franklin Street, will operate Sunday through Saturday from 6 a.m. to midnight. Hours may vary throughout the year.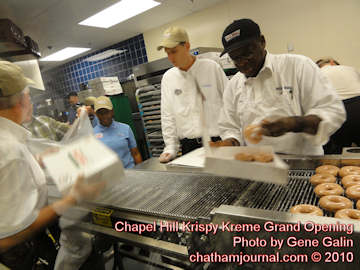 For updates on special promotions, exclusive offers and local events, join "Friends of Krispy Kreme" by visiting www.KrispyKreme.com, or interact with Krispy Kreme at www.facebook.com/KrispyKreme and www.twitter.com/krispy_kreme.